God designed people for relationships. Small groups have the potential of providing a safe environment for people to connect with others and to encourage one another in their relationship with God. Jesus focused on his team of twelve and then the smaller group of three in his ministry.
Small groups are amazing opportunities for people to stretch, learn, grow, express, laugh, cry, and try. The Apostle Paul gave some directions for interaction that is helpful for us as well:
So speak encouraging words to one another. Build up hope so you'll all be together in this, no one left out, no one left behind. I know you're already doing this; just keep on doing it. 1 Thessalonians 5:11 TMSG
PARAKLESIS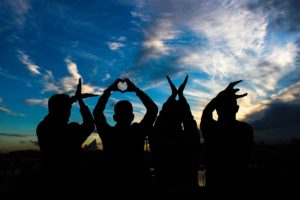 On Sunday mornings, small groups meet before the church service. These groups include a study time as well as a time of encouragement and prayer we refer to as Paraklesis. Paraklesis is a Greek term having to do with coming alongside another person to help, comfort, guide, teach, encourage, and build up. This special time allows a group of about four people to share their spiritual journey and their life's challenges and blessings with one another. Each one is blessed, and each one prayed for as they come alongside one another during Sunday small groups.